"Adding Leaves to your base/diorama is a great way to add a touch of realism without much effort and it can really bring another dimension to your work. Here is a simple yet effective way to do this using the really nice leaves made by Secret Weapon Miniatures."
Materials:
For mimicking leaves on a small scale (28-70mm) I like to use 'Birch seed leaves'. These are essentially just bits of material from the Birch Tree that are dried out and then coloured by the manufacturer to give them nice leaf like colours. Many companies produce these leaves however the brand I like to work with personally is Secret Weapon Miniatures. They have many different colours available for a reasonable price.
For guys like me in Australia I recommend picking them up from TableTop Empires… If you are overseas then you should be able to easily get them directly from Secret Weapon Miniatures.
You will also need a surface to put your leaves on (well duh), a pair of high quality tweezers for applying the leaves and some PVA glue for sticking them down. Optionally you can also use a bunch of different acrylic washes as I did in this example.
Step 1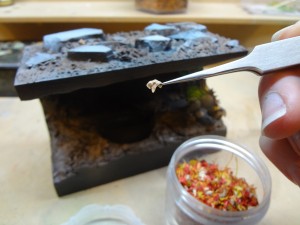 I begin by picking out a leaf that I like the look of… In this example I chose leaves of a similar colour as I didn't want the base to look too colourful (it would draw attention away from the models). Secret Weapon do make leaves of all different colours though so you have tons of options in regard to choosing what colours would suit your particular scene. If you want to use washes on your leaved to colour/shade them then I recommend choosing the lighter colours as they work better for this purpose.
You can see here that I chose leaves from the fall colour mixed bag of leaves from Secret Weapon.
Step 2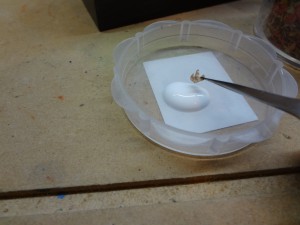 Next I dip the leaf in some PVA glue. I prefer PVA to super glue as it dries clear and you don't have to worry about it going all chalky…..
Try not to use too much as it can dry with a gloss finish and you don't want that messing up the look of your base. You can use an acrylic matt medium instead however it isn't as strong (though it looks better in you have a tendency to be a bit messy).
Step 3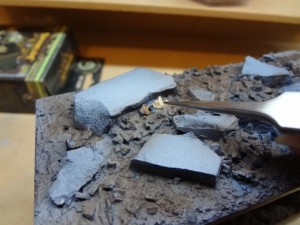 Next I simply apply my leaf to the base! Then rinse and repeat… It's a bit long winded but is is certainly worth it in the end. You could dot the glue on the base and then toss on a bunch of leaves like you would flock… This gives you less control but it is faster and if you were doing a larger terrain piece then that is what you would need to do. I find the individual application approach works better because the leaves look more realistic in regard to were they fall. It all depends on the look you are going for though!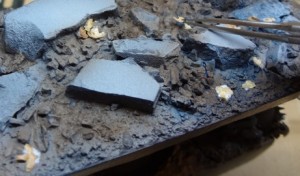 Step 4 : Painting!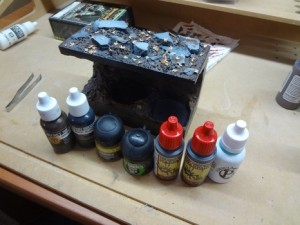 Once the glue is all dry you have the option of working further on the leaves… Normally I wouldn't do this as the colour that they already have is perfectly acceptable. This piece was however a competition entry and I wanted to bring a bit more depth and difference in tone to the individual leaves so I decided to go over them with a motley assortment of different washes.
I put the washes all down on my pallet and whent through them one by one picking out leaves and just quickly giving them a coat of the wash.
Just like with the selection of leaf colours you can feel free to use different wash colours to achieve different effects.
The Finished Results!!!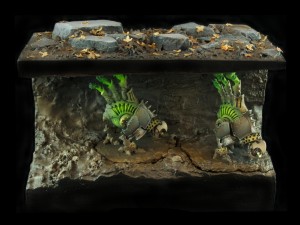 As you can see the washes just bring a greater level of shading and colour spectrum to the leaves… It is very subtle but in my opinion worthwhile!
Not too shabby if I might say so myself! This piece came first in a No Quarter magazine competition so if you want to check that out flip through your issue of NQ!!!
Cheers for reading along guys, Hope you found the article helpful… Cya in the next one!!!