The Guys over at Secret Weapon Miniatures were kind enough to send me a bunch of their Tau Ceti bases a few months ago. Some of these have already been put to good use however I had a few lonely ones left… I thought it would be an injustice to see such cool bases just sitting in my base box for the next few years so I have forced myself to paint them up and make a tutorial on how to do it! Hope you guys all enjoy! 🙂
Prep Work: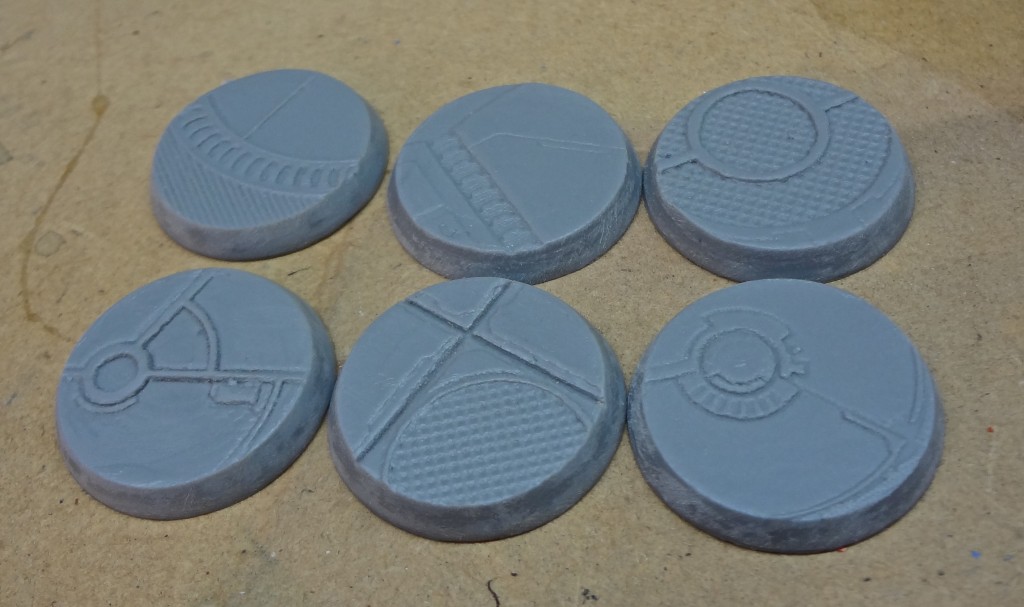 No real prep work was required for the bases. The cast was flawless (a huge relief as I had just finished a large Finecast commission) and there didn't seem to be anything much in the way of mold release though if in doubt washing your parts is the safest option (and what I would recommend).
I did give the rims of the bases a light sand just to be sure that they were super smooth but that is optional/unnecessary.Finally I gave the bases a light dusting of a rattle can grey primer (a cheapy hardware store brand) and stuck them down to a piece of folded up cardboard with some sticky tape to make them easier to handle while painting.
Painting: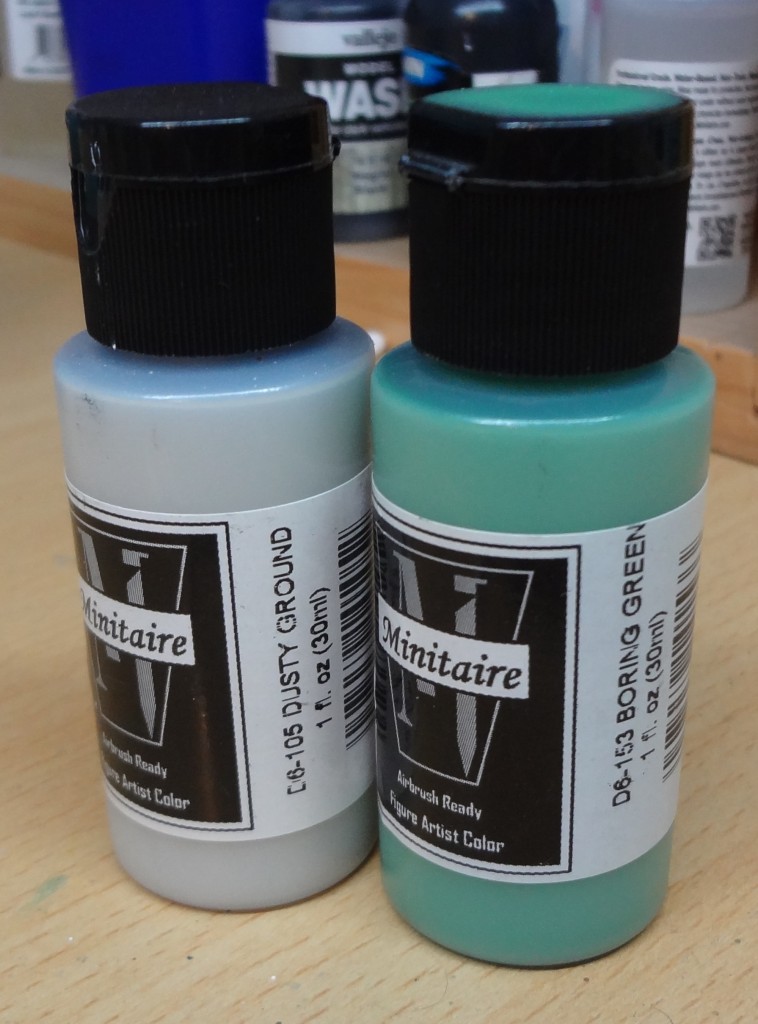 I began by base coating the bases with Boring Green by Minitaire (good job Badger marketing team…) and I used my trusty Patriot 105 to apply it… This resulted in me getting a nice even coat of green in just a few seconds.
I then grabbed out a light grey (in this case Dusty Ground) and mixed that with the base coat and applied it through the airbrush as a highlight. This creates a very desaturated and light colour which is ideal for paint chipping and weathering effects.
Next I used a bit of black to line all the details. Then I thin out a little and selectively apply it as a wash/glaze to some of the areas that should be darker presuming we have a light source coming from a slight angle above the base. If I was thinking things through I would have blocked everything in that needed to be black at this stage too however I wasn't really on the ball at that point in the process… 😛
Paint Chipping:
Now, here comes a fun bit!
I mixed a reddish brown with some black (so a really dark brown was achieved) and painted this on in small chip/scratch like shapes. For some areas I grabbed an old brush and stippled on the paint to get different effects.
I then proceeded to highlight the rust in the centre of the paint chips. To do this I used an orange colour mixed with a little of the base chip colour and painted in the centres of any large scratches or any with prominent exposed edges. I then went over them with a little line of black around the edges. This was only done to the larger areas, there's no way this sort of detail could be done on the smaller paint chips.
Pigment time!
I stippled on a few layers of rust coloured pigment made by Secret Weapon and AK interactive. I pick mine up from here:
I felt like things still looked a little dull so I highlighted the black areas with the the series of grey Minitaire paints pictured below before launching in to some bright red heat/osl effects!
Heat/osl effect
My two victims for osl treatment mwahahahahah…
I decided I wanted to make it look like the indentations on one of the bases were actually glowing red hot… I also wanted to create a similar osl effect on a small part of one of the other bases pictured.
Overall not to bad for 45 or so min's of painting (including stopping to take pictures). Cheers for reading along, hope it's helped some of you out… Any feedback or questions don't hesitate to get in touch! Cya in the next one!!!